The Farm Run
15th July 2018
Rennie Grove Hospice Care is proud to introduce a brand new fundraising event that's going to have you head over hay bales with excitement – The Farm Run! Down on Hammonds End Farm, Harpenden, runners of all ages are invited to tackle obstacles varying in size and difficulty through the tracks and fields of the open countryside.
Don't wait for the cows to come home, round up the herd and get friends and family involved in a day of activities, including:
5k (10+) – tackle our agriculture-orientated obstacle course across the scenic sights of the farm!
Entry costs £15 per person – includes a t-shirt and a medal
Extreme Hill option (16+) – Tough enough to take on the challenge? Go the whole hog on the 'extreme hill' – an incline of pain waiting on the course of the 5k, with tasks designed to test your limits by a former Marine – who will also be there on the day for maximum motivation!
1k Fun Run – This one's for the whole flock and will feature miniature obstacles for the smaller trotters to tackle. This one's perfect for parents and kids!
Entry costs £5 per person. Under 4's go free. Includes a medal.
*Your sponsorship money helps us to continue to provide end-of-life care to local patients with cancer and other life-limiting illnesses and their families. As little as £50 could fund the cost of a first assessment visit to a hospice at home patient to understand their needs and wishes and draw up a person care plan.*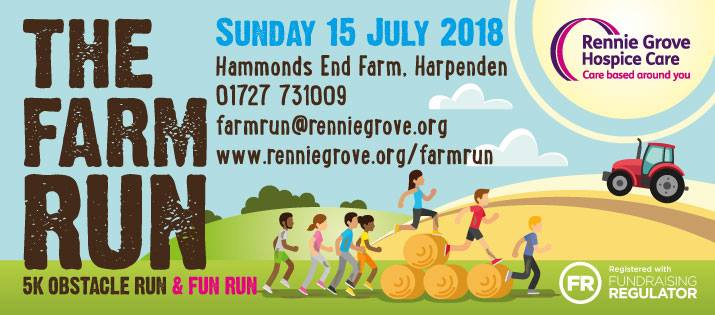 Address
Hammonds End Farm
Harpenden
Hertfordshire
AL5 2AY
Contact