Thousands turn out for the fourth Herts Big Weekend
The fourth Herts Big Weekend went off with a bang this April!
Thousands of people embraced the weather on 6th and 7th April and celebrated the county's fantastic tourism industry by visiting a huge range of attractions and sharing their memories on social media.
Over 60 tourism businesses donated thousands of tickets and experiences to Herts Big Weekend, and there were over 59,000 applications for the free tickets in the online ballot. Two tickets per household were allocated by ballot to the lucky winners (some family tickets were available).
Attractions went out of their way to extend a warm welcome to ticket holders over the weekend and it was a great way for the attractions to launch their season.
Visit Herts chief executive Deirdre Wells OBE said: "We could not have asked for a better welcome for the fourth ever Herts Big Weekend. All the participating attractions got into the spirit of the weekend and shared some lovely feedback from customers about the whole experience.
"This event was designed to help re-ignite people's passion for Herts by showing them just how much there is to see and do on their doorstep.
"Our Twitter feed was full of great posts and pictures from the weekend, both from ticket holders and attractions. Roll on 2020!"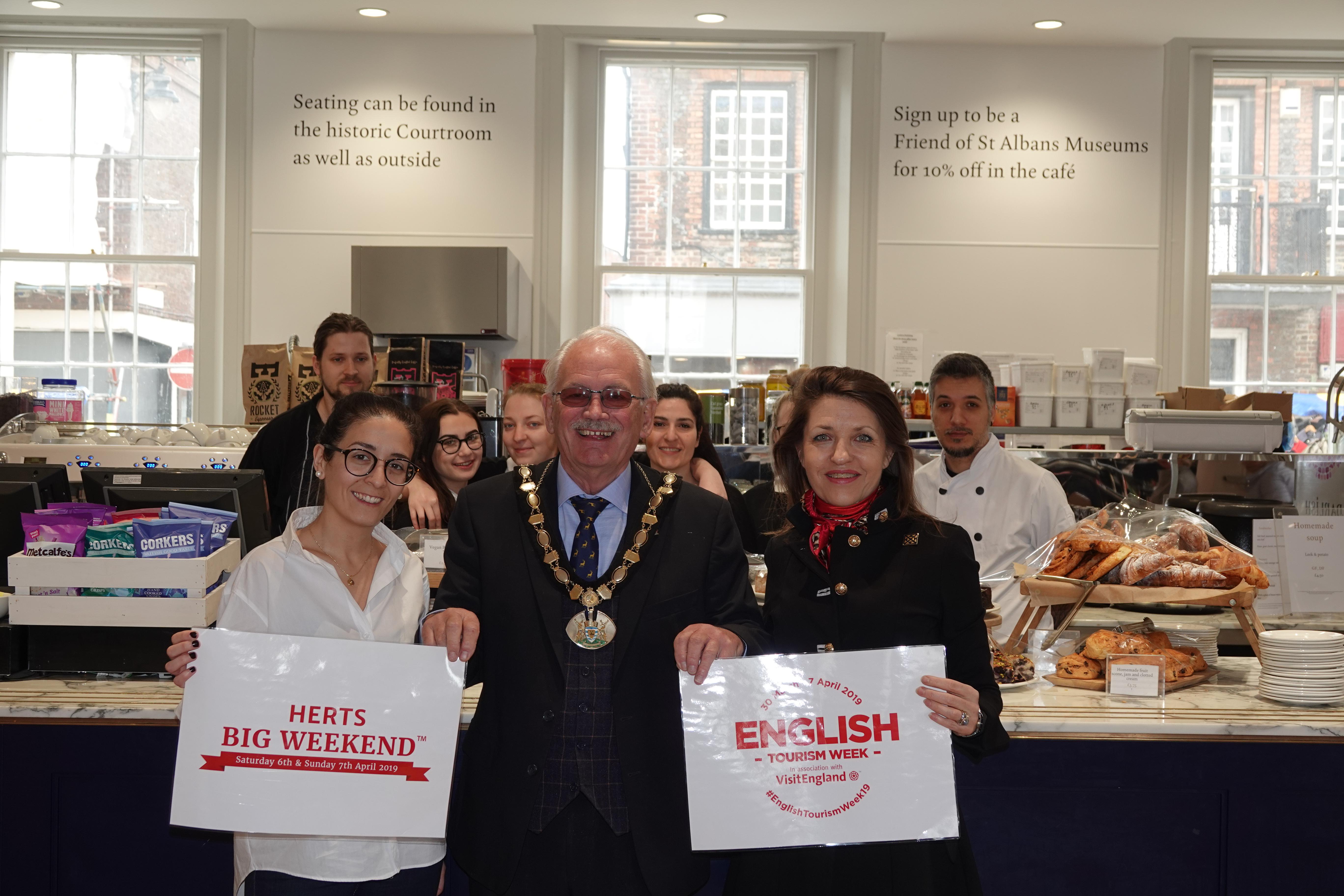 During the weekend, Cllr William Wyatt-Lowe, Cllr Richard Thake (pictured above), the Lord-Lieutenant of Hertfordshire and Richard Voss CBE all visited several participating attractions to show their support for local tourism.
During the build up, the Herts Big Weekend website saw a 26% increase in page views and a PR reach of over 213,000 people.
Organised by Visit Herts, the Herts Big Weekend event aims to boost tourism and support leisure businesses by giving Herts residents the chance to discover – or rediscover - a huge range of attractions and activities across the county for free for one 'big weekend'.
Afternoon Tea tickets at Down Hall Hotel and Spa proved to be the most popular offer during the ballot, and entry to ZSL Whipsnade Zoo was second. Tickets to Paradise Wildlife Park, Knebworth House and Gardens and the entry to Willows Activity Farm completed the top five with Warner Bros. Studio Tour London a close sixth and their combined applications drew in over 18,500 bids.
Other tickets included entry to heritage sites, gardens, parks, museums, sports and leisure facilities, and food and drink experiences.
Herts Big Weekend also formed part of the national celebrations for English Tourism Week 2019.




1 / 4